Jack and Jill are now focused on getting their wedding plans together. They have one more wedding show to attend before sitting down with individual vendors. NOTE: When they do all vendor reports will be back here on this blog. Make sure to mark it as a favorite.
Jack and Jill discovered that The Stadium View, JPS Nvitations and Abrams Spotlight Productions Inc. will present the Abrams Spotlight Wedding Show at the Byng Community Theater, Abrams. Brides, grooms, their families and friends are invited to attend the show, scheduled from 11 a.m. to 3 p.m. Sunday, March 31, at the theater. The Byng Community Theater, formerly a quaint country church, has been newly renovated and is now open for weddings and funerals.
While they are there you will see their newly painted interior, exposed stain glass windows, new seating and hardwood floors, perfect for an affordable and unique wedding venue.
Guests at the Abrams Spotlight Wedding Show will have the opportunity to speak directly to a variety of wedding vendors from Northeast Wisconsin. Vendors will provide information about their products and services, including wedding cakes, music, photography, invitations, make-up, and more.
Drawings for prizes will be held throughout the event.
Thanks to JPS Nvitations, you can download by clicking your complimentary ticket right here.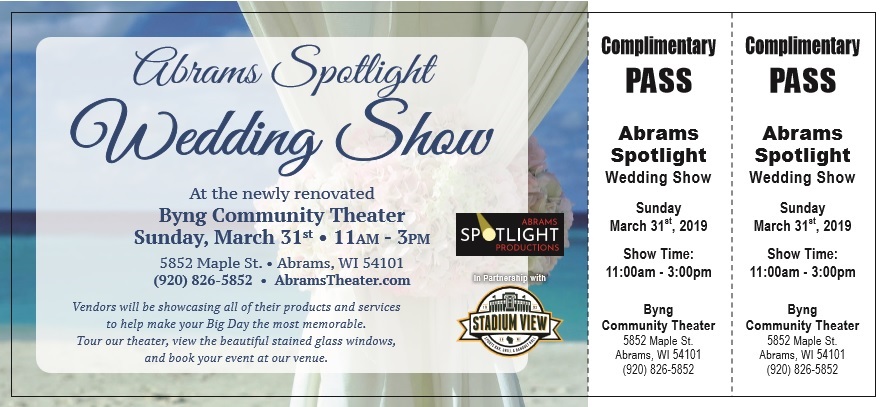 We look forward to seeing you at the Abrams Spotlight Wedding Show.
Follow US-41 N to Co Hwy D/Sampson Rd in Abrams. Take exit 185 from US-141-41. Then take the West Frontage Rd North1.4 mile to Main St. Turn left on Main for .5 mile and then right onto Walnut that runs right to the show.
Address:
5852 Maple Street
Abrams WI 54101
920-826-5852